Awareness and Safety Training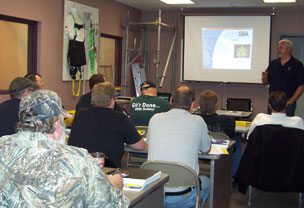 Scaffold Service is an accredited SAIAA training institute with accredited instructors, conveniently located between Minneapolis and St Paul. We offer performance based programs that must successfully be completed with a minimum of 80% score to pass. We feature a full training facility for all of our classes, and plenty of staff on hand to answer any questions that arise. For larger groups we can even come to your facility for training.
Training programs are designed by the Scaffold Access Industry Association, as well as the Southern Alberta Institute of Technology. These programs are compliant with all United States and Canadian Government standards, and Scaffold Service, Inc. is an accredited training institution.
Scaffold Service – Minnesota's Only SAIA Accredited Training Institute
SAIA offers training for both supported and suspended scaffolding through the SAIA University. Additionally, User Hazard Awareness Training, Mast Climber Operator training, Aerial Work Platform (AWP) and Journeyperson Scaffold Program is included in the SAIAU curriculum. Over 60,000 students have been trained since the SAIA University was established!
*** IT'S TRAINING TIME! ***
Scaffold Service, Inc. will be conducting classes on the dates listed below:
Suspended Swing Stage CPT Class
Thursday, January 26, 2017
Thursday, February 23, 2017
Thursday, March 23, 2017
Frame Scaffold CPT Class
Thursday, January 12, 2017
Thursday, February 9, 2017
Thursday, March 9, 2017
System Scaffold CPT Class
Dates to be Decided
Please signup below or contact Joel Almquist to reserve your seat today joel@scafserv.com or at 651-646-4600
*Course Cost is $125.00 per person
*Course Cost is $115.00 per person if 3+ from same company
*Course Cost is $100.00 per person if 8+ from same company
If your company has 6 or more people interested in training, we can schedule a class specifically for your company on anther date.
*Payment is due upon class registration (No REFUNDS)
*WE RECOMMEND THAT YOU SPEND THE TIME STUDYING THE CONTENT OF THE MANUAL AND TAKING THE PRACTICE TESTS.
Please give yourself a minimum of 2 weeks to thoroughly prepare.
Class is only an overview of the material.
Our Current Training Programs
3-Year Re-Certification Signup
Minnesota Safety Grants Information
Links to Other Resources