Since 1972 – for Rental, Sales, Installation, and Service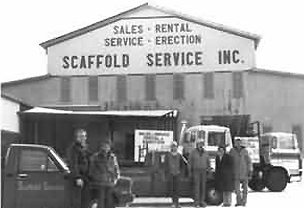 For over 40 years Scaffold Service has remained the areas best choice for rental, installation, and sales of high reach equipment used in the scaffold industry.
Our reputation for quality and safety has established us as one of the most respected businesses in the upper Midwest.
Whether you need an engineered scaffold solution complete with erection and dismantle, or just want to rent or buy equipment – look to Scaffold Service for all of your scaffold and high reach access needs.
Save some time – make us your first call!
Trusted Local Experts
Based in St Paul, MN Scaffold Service provides scaffold, swing stages, debris chutes, shorting, and related access equipment.  We are ready to serve your projects in the five state area of Minnesota, Wisconsin, Iowa, North Dakota and South Dakota.
Customized Solutions
Because of the full range of access equipment we carry, the best solution for each job may include scaffold, suspended staging, elevating work platforms, aerial work platforms, personnel lifts, ladders, planking, material lifts, temporary enclosures and containment, debris chutes, personal fall arrest safety systems, forklifts and much more.  No matter what your project needs are, we have the scaffold and lift systems to get it done.
Whether you need an engineered scaffold system, high reach swing stages, or if you are just renting some scaffold planks, we are equipped to meet your needs.  Let us know what we can do for you!