Mast Climbing Work Platforms
We provide top quality mast climbing work platforms that feature innovative structural, mechanical, ergonomic and safety features.  Choosing the right solution will help you to increase productivity, improve your safety and reduce worker fatigue and related concerns. Mast climbers improve the safety and efficiency of construction and remodeling through safer equipment and work platforms.
We're the scaffold experts of the upper Midwest, with a large inventory.  You can be sure we have the right mast climber solution for your project.
PowerMast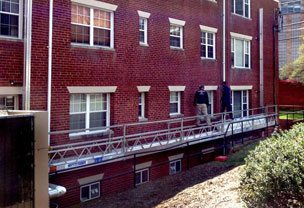 The Power Mast is great for mid to high access needs, offering unmatched portability and simplicity for a wide variety of wall access needs, up to 200+ feet. The tools-free mast assembly is not only easy to put together and connect, it is so compact that a 100 ft. twin system can fit in the back of your truck or van! Use a Single Mast or a Twin Mast system, depending on what components you need for your project. This product is compatible with up to 30" modular deck or railed walk boards.
When the Power Mast system is anchored to a structure for support, this is known as a "tied" configuration. Being tied allows for the fewest number of components and the maximum height of 200 ft.
When no structure is available or it is undesirable to anchor to a structure, the Power Mast system can stand without being tied, also known as "free stand." The optional free standing tri-mast base has adjustable outriggers and a 3 mast arrangement to provide the necessary support to reach 32 ft outdoors or over 50 ft indoors.
PowerMast Video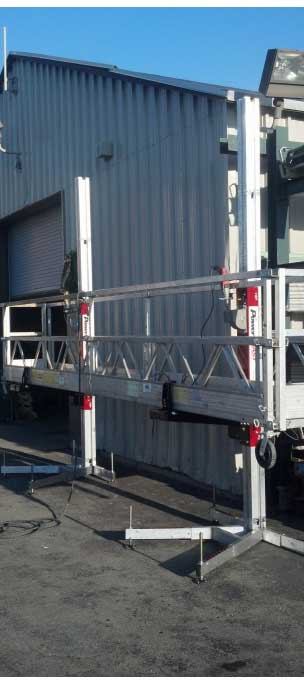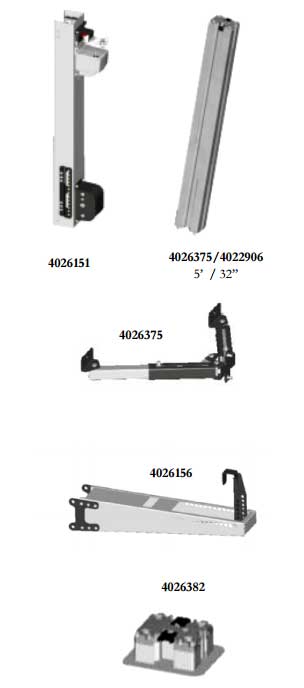 PowerPole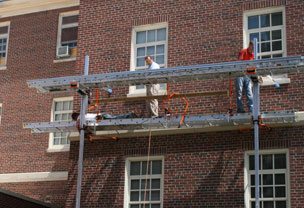 Although you may have all the access equipment you need, the PowerPole can help you get your equipment between buildings, on rooftops or around landscaping. The time for worrying about the logistics of getting equipment on site and in place is over. With incomparable set-up costs, portability, lift to weight ratio and a landscape friendly design, ReechCraft's PowerPole works at the ideal height and can help you reach tight spots.
Whether you're installing siding, roofing or windows, the PowerPole's modular design can help you get the job done safely and quickly. It's the perfect piece of equipment for hard-to-reach spaces between buildings and on roof tops. Save money and time: order the Power Pole for your next project.
Each PowerPole system requires a 10 in x 10 in base and a PowerPole Climbing Unit powered by a 1/2 in drill. The PowerPole Climbing Unit provides all the capacity needed to lift workers, tools and materials into position.
Build your own system by bolting on your choice of Platform Supports and Accessories for a wide variety of tasks.
PowerPole Video


PowerLift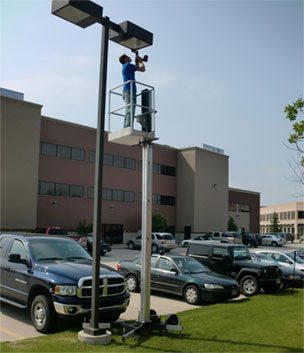 The ReechCraft PowerLift makes access easy and has a large range of applications that are convenient without sacrificing security. Watch the video below and see it product in action.
The Power Lift is a triple threat: convenient, secure and easy to use. It provides additional security and safety, while still helping you gain access to difficult-to-reach indoor and outdoor spaces. One person can easily move and operate this equipment up stairs or inclines – it's the lightest low-level lift on the market.
PowerLift is perfect for locations where access is difficult for other lifts such as stairways and tight spaces. It works great in factories, warehouses, offices and homes, both indoors or outdoors.
This product is very simple to operate! Its only electrical component is the drill for power. There are no expensive controls, sensors or switches to repair.
PowerLift Video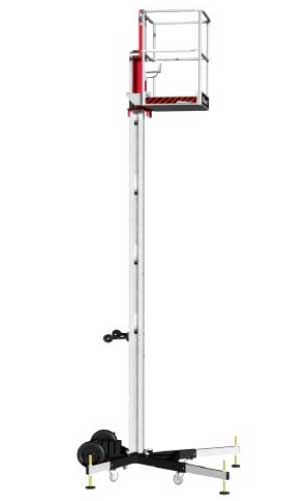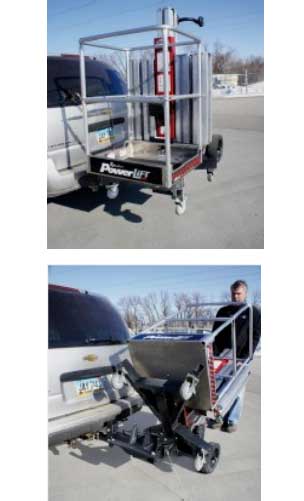 Full Service Solution For Your Access Needs
Scaffold Service proudly serves contractors with safe, reliable, and high quality access equipment, scaffold, accessories, and safety training . We provide a variety of scaffold rental and service solutions for contractors and projects of all sizes.  Our engineering and design team can provide CAD layouts, which can be supported by our experienced erectors and supervisors.