Wooden and Aluminum Scaffold Planks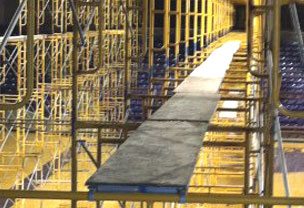 Need reliable scaffold planking?  We've got a huge selection of wooden and aluminum scaffold planks for your next project – no matter what you need!
We're the scaffold experts of the upper Midwest, with a large inventory.  You can be sure we have the right scaffold planking solution for your project, with materials such as;
OSHA Stamped Wood / LVL Planks
Aluminum Frame with Plywood
Aluminum Planks
Wooden Extension Planks
Aluminum Extension Planks
Aluminum Frame Planks with Plywood
Aluminum frame planks with plywood decking are the most popular, and constructed with "I-Beam" side rails make planks stiff and reduce deflection. No over-hang. Lighter than wood scaffold plank. Fast replacement of damaged components using common tools. Aluminum cross members directly support plywood.  Meet UL and OSHA standards.

Aluminum Decking
Extruded, all aluminum planking.  Dimpled and pierced decking assures slip-resistant surface.  Lighter weight than wood planks or plywood decks.  Meet UL and OSHA standards.
Wooden / LVL Scaffold Planks

Our wooden scaffold planks are Microllam LVL wood scaffold planks from Trus Joist MacMillan. LVL planking is the result of a unique manufacturing process that improves on Mother Nature's best. Laminated veneer lumber (LVL) is created by permanently bonding individual sheets of veneer together, using adhesives, heat and pressure, with the grain in each layer of veneer running parallel to the grain in the next. Meet UL and OSHA standards.
Aluminum Extension Planks
Has spring set positive lock which sets the plank in 12 inch increments. Outer flange open for ladder jack clamps. Molded thermo-plastic spaces guides for easy open/close action. Heavy 3/16 inch end flange/handles for rigidity and ease of operation. Positive stops prevent over extension
Stage Planks
Made of well-selected strips which telescope. End stops prevent pulling apart.
Plated steel strap irons and cross rods provide added strength. 12 1/4 inch width planks available in 3 lengths:
12′ to 40′ long
12″ to 30″ wide
Scaffold Design and Drafting
Steel frames are made in different styles and sizes (some samples are illustrated here).  Ladders, base plates, side brackets, stair units and other accessories are combined with scaffold frames to create the appropriate format for each job.
Engineered Scaffold Systems
We can provide CAD services and scaffold design services for your project.  Our scaffold design and CAD services can provide preliminary and final scaffold layouts, taking into account factors such as weather, workloads, regulations, and other factors.
Scaffold Erection and Dismantling
We can provide the scaffold erection and dismantling services you need.  Our team can design and erect the scaffold systems according to the plans and designs of the project and help you meet your deadlines.   When the job is complete, our team can provide full dismantling service, to help you get it all wrapped up fast!
Awareness and Safety Training
Scaffold Service is an accredited training institute with accredited instructors, conveniently located between Minneapolis and St Paul.  We offer performance based programs that must successfully be completed with a minimum of 80% score to pass.  We feature a full training facility for all of our classes, and plenty of staff on hand to answer any questions that arise. For larger groups we can even come to your facility for training.
Full Service Solution For Your Access Needs
Scaffold Service proudly serves contractors with safe, reliable, and high quality access equipment, scaffold, accessories, and safety training . We provide a variety of scaffold rental and service solutions for contractors and projects of all sizes.  Our engineering and design team can provide CAD layouts, which can be supported by our experienced erectors and supervisors.