Let Gravity Do The Work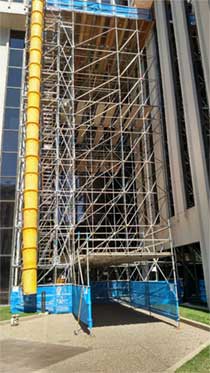 Scaffold Service provides durable trash chutes, featuring superb ease-of-use, they provide a quick, clean, & safe solution.
We're the scaffold experts of the upper Midwest, with a large inventory.  You can be sure we have the debris chute solution for your project, with equipment such as;
Welded Sections
Wrap-Around Sections
Steel Liners
Chute Hoists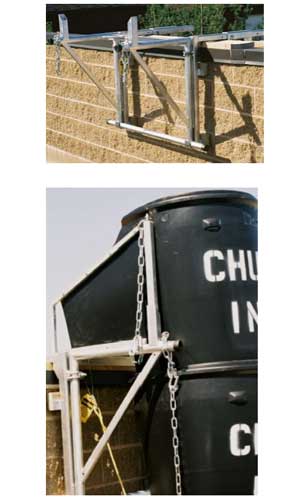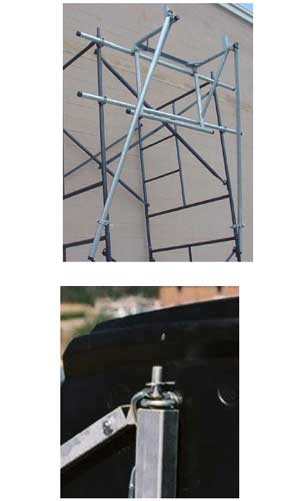 Debris Chutes and Sections
Superchute sections are tapered tubes that attach quickly & easily to one another using built-in cable assemblies. Create chutes up to 200 ft. in length. Use Chute Hoists to install and support the chute.
Entry sections allow debris to be cleared from any floor level, and are equipped with Cable Gates as required by OSHA.
Superchute sections are:
4 foot tall (because linked sections overlap a little, 3 sections provide 10 ft. of drop)
Slightly tapered (only 1 inch taper – tight fit minimizes airborne dust)
Equipped with safe & strong cable linking hardware
Outstandingly resistant to abrasion, chemicals and cold
Lightweight, safe, flexible, and quiet in use
Made from yellow UV treated plastic
Debris Chute Steel Liners
Use steel liners to protect heavy-wear areas in your chute system.  Superchute liners feature:
14 gauge galvanized steel construction
Brackets for easy attachment to the wall
Two hand-holds
Painted diameter specs
Debris Chute Hoists
A chute hoist solves the two obstacles that installers face:
Hoisting the chute
Anchoring the chute to the building
Superchute hoists can be installed on scaffolds, floor slabs, roofs, and windows.  All the designs are engineered and feature:
3:1 safety factor on the support frame
Easy assembly using locking pins
Removable Fishpole
Fast assembly (only 10 minutes!)
Galvanized steel construction
The ability to work with a crane (except the Forklift Frame)
Bolt Down Frames
250 – 1,000  lbs capacity.
Scaffold Hoists
900 – 2,000  lbs capacity.
Forklift Frames
900  lbs capacity.
Roofer Hoists
300 – 905  lbs capacity.
Window Loadspreaders
350 – 600  lbs capacity.
Bolt Down Frames
600 – 2,000  lbs capacity.
Scaffold Erection and Dismantling
We can provide the scaffold erection and dismantling services you need.  Our team can design and erect the scaffold systems according to the plans and designs of the project and help you meet your deadlines.   When the job is complete, our team can provide full dismantling service, to help you get it all wrapped up fast!
Awareness and Safety Training
Scaffold Service is an accredited training institute with accredited instructors, conveniently located between Minneapolis and St Paul.  We offer performance based programs that must successfully be completed with a minimum of 80% score to pass.  We feature a full training facility for all of our classes, and plenty of staff on hand to answer any questions that arise. For larger groups we can even come to your facility for training.
Full Service Solution For Your Access Needs
Scaffold Service proudly serves contractors with safe, reliable, and high quality access equipment, scaffold, accessories, and safety training . We provide a variety of scaffold rental and service solutions for contractors and projects of all sizes.  Our engineering and design team can provide CAD layouts, which can be supported by our experienced erectors and supervisors.