Suspended Scaffold and Swing Stages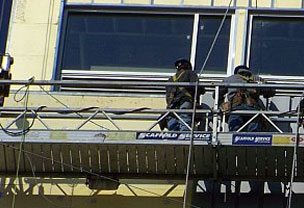 Scaffold Service provides a wide array of scaffold swing stages, suspended scaffold platforms, and work cages. Suspended modular platforms, known as swing stages, are extremely customizable, able to be used in a variety of applications.
We're the scaffold experts of the upper Midwest, with a large inventory.  You can be sure we have the right swing stage solution for your project, with equipment such as;
Platforms
Swing Stages
Hoists & Accessories
Roof Rigging
Work Cages
Bosun Chairs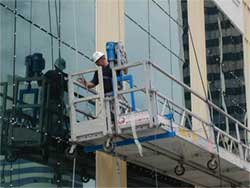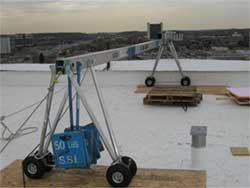 Sky Climber Suspended Platform Systems
Sky Climber is recognized as an industry leader, and has been designing, engineering and manufacturing suspended access equipment such as quality hoists, rigging solutions, and modular work platforms for over 50 years.
Sky Stage Ultra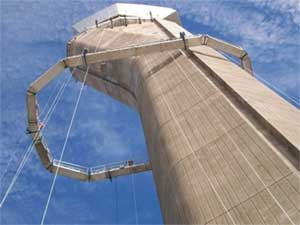 Sky Stage Ultra is a "third generation" modular platform that combines the best of current technology with new concepts. It is used in commercial restoration, painting, sandblasting, waterproofing, caulking, window cleaning, inspections, off-shore oil rigs, and general building maintenance. A Sky Stage Ultra Standard Platform system investment allows for unlimited configuration.
50 ft (15m) span between suspension points (only 2 hoists)
70 ft (21m) length is possible with addition of 2 Movable Walk-thru Stirrups
0-90˚ Adjustable Corner
Lighter weight with wheels for easier movement
Quick & easy installation that requires no tools
Two and three-tier decking capabilities
Tip Out Porches
Tip out porch bracket gives you access to hard to reach areas on a wall, to do columns, or windows that have deep recesses. It tips in and out, to make it easy going up to next section.


Double Deck Platform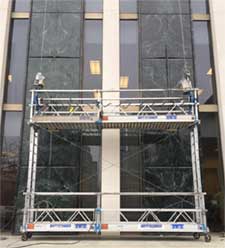 This platform enables workers to work simultaneously on two (or even more) levels at comparatively low costs (for the extra equipment). At both ends the suspended platforms are linked with ladder frames. To allow easy access from one level to the other, additional one of the upper decks are provided with a trap-door.
The advantages of the double-deck platform:
Offers the possibility to work simultaneously on two different levels
Only 2 hoists are required to lift the double-deck platform
Different height between the workfloors
Adjustable Corner Sections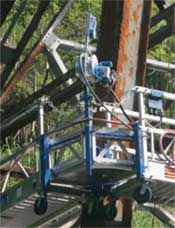 The system can provide 7 different angles, which offers an unprecedented flexibility, at significantly lower cost. The particulars of this section are to be found in:
Unique design and construction
Form angles of 20, 30, 45, 60, 72 and 90 degrees
Simply adjusted without tools
Manufactured from durable galvanized steel combined with aluminium components
Can be provided with a spindle on request

Skysafe® Standard Modular and Knock Down Modular Platforms

Unitized construction:
Fewer parts, nothing to lose on the site.

Faster to assemble, less cost to rig jobs.

Easy to store
Wide variety to section lengths: Available in 1/2, 1, 2, and 3 meter lengths. No sectional assembly limitations: Knockdown and Unitized sections may be connected together.
Available Corner, Stirrup, and Endframe Sections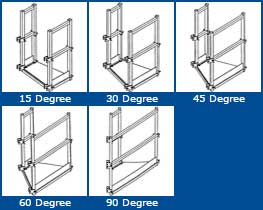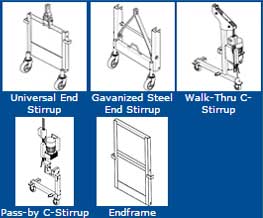 Modular Suspended Platform System
The Altrex modular suspended platform system is recognized throughout the world as the standard for the Industry! Altrex designs and manufactures their products primarily with a focus on a safe work environment for the end-user.
The Altrex modular suspended platform system is very versatile in use for temporarily projects where scaffolds are inadequate or economically inefficient. The components of the Altrex modular suspended platform system are compact and flexible in use.
Aluminum Roof Beam
Altrex designed a unique aluminum roof beam system, made almost entirely of aluminum.
Modular
Modules fit in personal elevators
Only few different parts
Low weight per part
Unique patented shock absorber
Assembly without tools

Outrigger Beams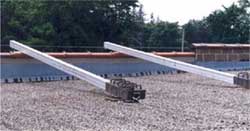 Provide up to a 4 ft. reach. The 16ft. system has an 8 ft. front beam, standard splice and 8 ft. rear beam with a slot for cast weights.
Also available, the 24 ft. longhorn system is made up of a front beam, mid beam, longhorn rear beam, two standard splices, and a 42 in. longhorn bar.
Overhang Beams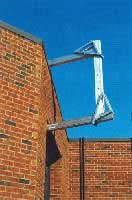 Lets you reach those areas below an overhang or cornice. The fully adjustable components allow you to reach up to 5 ft. down and 4 ft. under and overhang.
The Down and Under assemble consists of two beams and two galvanized steel corner braces. These components pin to the mid beam of the modular system for roof support.
Parapet Wall Outrigger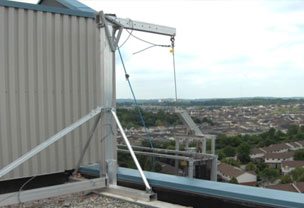 Parapet wall outrigger provides quick and easy clearance over tall parapet walls up to 8 feet in height, while keeping the outrigger beam and weight at a more manageable level on the roof.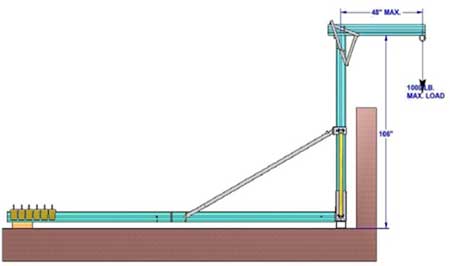 Cable Truss System
The cable truss system provides up to an 8 ft. reach at 1,000 lbs. capacity. As with the straight beams, the cable truss upright and the wire ropes pin to the beams. For the set up shown, a front beam, cable truss. Two mid sections, a rear section and two splices have been used. The optional sliding beam collar allows the suspension point to be adjusted after the beam has been put in position.
Beam Stands and Rolling Outrigger

Beam stands protect the building when the parapet can't support the loads applied by the beam. The beam stand is 42 in. high and can accept both a primary and secondary beam. Made of galvanized steel it adjusts to the angle of the beam.
Light weight all Aluminum Rolling Outrigger that sets new standards in convenience.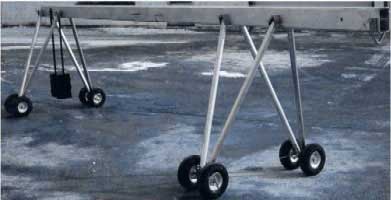 42 inch reach with adjustable suspension hanger
48 inch roof clearance
Counterweight holders for flame cut or saddle weights
Easy to Assemble – the beam is a 10 foot front, a standard splice and an 8 foot mid beam drilled to accept wheels
It's portable – the longest component is 10 feet and the wheels fold to easily fit building elevators and pass through roof hatches
Scaffold Lifts, Hoists, and Climbers
We provide top quality scaffold hoists that ensure rugged, reliable performance, time after time. Ideal for roofers, carpenters, painters and plaster contractors for a cost-saving, safe way to transport your construction materials.
We're the scaffold experts of the upper Midwest, with a large inventory.  You can be sure we have the right hoist solution for your project, with materials such as;
Electric Hoists
Air Hoists
Safety Brakes
Top Limit Switch
Controlled Decent

Sky Climber Electric and Air Hoists
Personnel lifting on drilling rigs and platforms has traditionally been done using winches designed for material. These devices, even if modified for personnel, do not carry the extra built in safety features, and operate at extreme speeds leading to accidents and injury. Difficulty in communication between the operator & rider compounds the danger in this type of application. Rigs have been moving to man-rated systems to provide access to the blocks for daily maintenance. Sky Climber has developed the Tower Hoist to address the issues associated with inferior systems and features the most advanced technology available.
With the Sky Climber Tower Hoist, the rider controls his own ascent and descent with a wireless remote control. Hand or radio signals are no longer necessary and productivity is improved without using a second operator. The speed is regulated to 35 fpm. It has a mechanical secondary safety brake should the motor brake fail, a top limit switch to prevent the rider from ascending into an upper obstruction, and mechanical controlled descent capability in case of power loss. Additionally, the machine has a very small footprint allowing it to be used in close quarters in the crown.

TIRAK® Scaffold Hoist (motorized)
The TIRAK® is a motorised hoist with a wire rope which passes completely through the machine. The TIRAK® has been specially designed for suspended access applications. The originality and the reliability of its wire rope driving system make it the ideal lightweight, sturdy and safe hoist for suspended scaffolds and working platforms.
Unlimited working height: the wire rope not being stored in the machine the TIRAK® can operate on practically any height of lift.
Exceptional capacity: The unique high capacity models, 1t (2,000 lbs) and 2t (4,000 lbs), can be used for heavy working platforms, multitier suspended scaffolds, etc.
Safety is paramount: The simplicity and the reliability of its design make the TIRAK® an extremely safe machine. Positive proof: the TIRAK® has been approved as a scaffold hoist by safety organisations all over the world. In North America they are UL classified (see complete marking on product) and CSA approved.
Emergency descent feature: All TIRAK® models are equipped with a centrifugal mechanically controlled descent device to lower the scaffold in case of power failure.
The principle: The TIRAK® operates on the principle of wire rope travel using traction pulleys. The originality of the system is in the operation and arrangement of the pulley(s). The units of the X series have a single drive pulley. The grip of the wire rope in the pulley is made by set of rollers operated by a pressure spring. The units of the T series have two pulleys, one positioned above the other. Each pulley consists of a pressure disc and a drive disc, pressed against each other by preset high duty pressure springs. The wire rope travels around the two pulleys along an "S" path.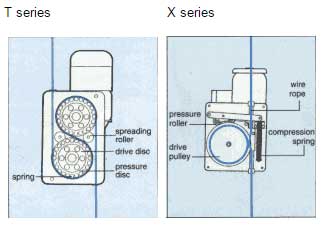 Secondary overspeed brake: In North America all scaffold hoists must be equipped with an integrated secondary brake which takes the load in case of emergency. The secondary brake mounted on TIRAK® hoists as standard equipment is a BLOCSTOP® fall arrest device of the BSO type (BLOCSTOP® overspeed).
It consists essentially of a clamping jaw mechanism of the TIRFOR-type and a centrifugal governor, which permanently checks the speed of the wire rope passing through the BLOCSTOP®. The jaw mechanism automatically clamps onto the wire rope when there is a sudden increase in speed. The TIRFOR®-type jaws do not damage the wire rope.
The BLOCSTOP® BSO may also be operated manually at any speed by operating the emergency stop button.
The standard TIRAK® is fitted with an electric motor, either single phase 110/220 V or 3-phase 230/460V, 50/60 cycles. Other voltages as well as two speed motors are available as an option.
The TIRAK® may be fitted with an air motor, for use mainly in industries with a potentially explosive environment (e.g. oil refineries, chemical plants, etc) or in facilities fitted with large compressed air installations, such as power stations, shipyards, etc.
Use only the TIRAK® wire rope, specially designed for use with the TIRAK® mechanism. Since it is not stored in the machine, any length of wire rope can be used, supplied separately from the machine, wound on a reel or drum.
Scaffold Erection and Dismantling
We can provide the scaffold erection and dismantling services you need.  Our team can design and erect the scaffold systems according to the plans and designs of the project and help you meet your deadlines.   When the job is complete, our team can provide full dismantling service, to help you get it all wrapped up fast!
Awareness and Safety Training
Scaffold Service is an accredited training institute with accredited instructors, conveniently located between Minneapolis and St Paul.  We offer performance based programs that must successfully be completed with a minimum of 80% score to pass.  We feature a full training facility for all of our classes, and plenty of staff on hand to answer any questions that arise. For larger groups we can even come to your facility for training.
Full Service Solution For Your Access Needs
Scaffold Service proudly serves contractors with safe, reliable, and high quality access equipment, scaffold, accessories, and safety training . We provide a variety of scaffold rental and service solutions for contractors and projects of all sizes.  Our engineering and design team can provide CAD layouts, which can be supported by our experienced erectors and supervisors.